20 mai 2009
We have left Mui Ne with the sleeping train. The girls had obviously a great time slleping in a train was such an exciting experience. As Elena pointed out to me, this year we have slept in all sorts of means of transport, the train was the last one we had to try, after the boat (in NZ) the campervan (in oz) the plane (many times) the sleeper-bus (in vietnam).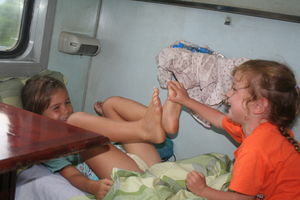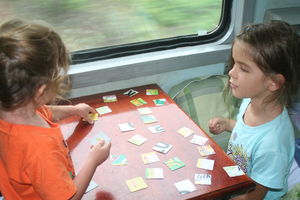 We arrived in Hoi An very early in the morning which allowed us to walk around before the crowd. we immediately felt in love with the beautiful city, classified by the Unesco and so sweet, delicate and clean compare to what we had seen so far in Vietnam.
There is around 500 tailors in HoiAn, so we had to give it a go! The girls found it much fun to chose the materials, play in the silk rolls and run around with a sewing meter.
We had planned our trip with the monthly ful moon festival. On that evening, no vehicles at all are allowed in the historic centre, and all the lighting is done by candles. It was so beautiful and quiet!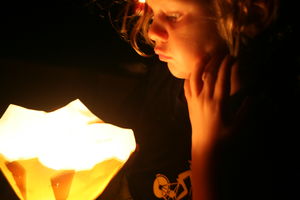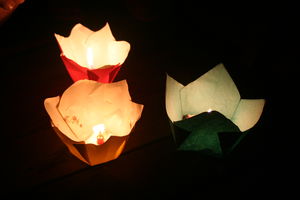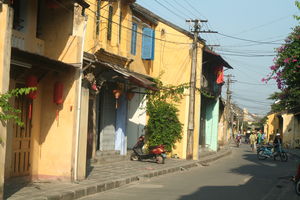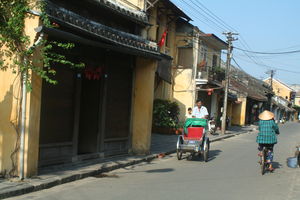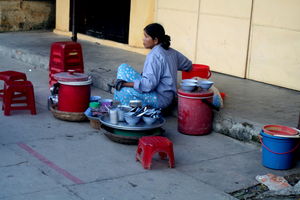 food street stall, where the food is often the best!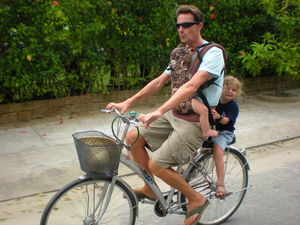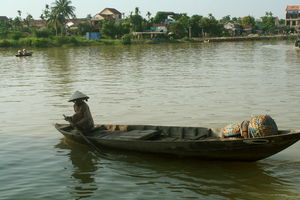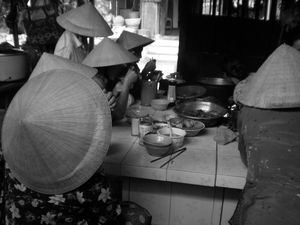 Market food stall
After this delightful little city we went to Hue and the forbidden purple city, where we spent half a day wandering around. The following day we decided to enjoy a boat trip along the purple river on a dragon boat. The funniest part of the day was really to watch Gaetan and Rebecca (an aussie couple we met in HoiAn with whom we had such a ball) negotiating on the harbour and spending literally an hour going back and forth to have the best price.
On a number of occasion we realised how much Vietnamese people appreciate foreigner to speak vietnamese with them. We suddenly had much more room for negotiation as soon as Elena was singing one of the vietnamese songs she learned at school. Apparently there are 5 or 6 songs that everyone in vietnam know from school (one of which explain how you can kill your neighbourgh with different weapons...oups). Anyway, we did slightly abuse of the opportuniy by simply (but firmly..) encouraging Elena to show off at the right time...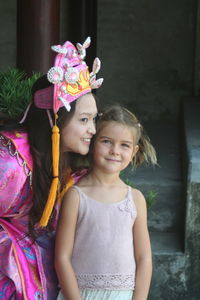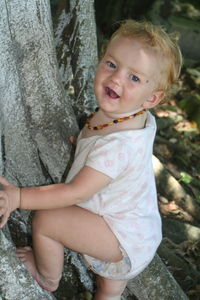 Climbing trees (but still not walking...)

In the boat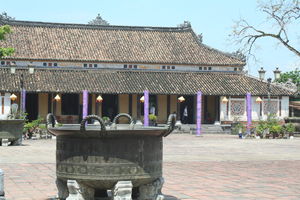 We flew back to HCMC (Ho Chi Minh City) where we arrived 4 months earlier, to visit the city. Despite our concern of finding it too busy/noisy/polluted or manic, we enjoyed spending a few days there. It made us realised how much we have adapted ourselves to the madness of Vietnam as we did not remember why we found it so difficult to cross the street when we came there from NZ. We stayed there with a french family we have met in Mui Ne, and their warm welcoming really made us feel at home and certainly was part of the reason why our stay was such a success.
It was lovely to have a social life again and to go out without the children (and to realise how Tahlia could be the perturbating element of the group and prevent anyone else to sleep thanks to her ease at entertaining everyone).
Anyway our last few days in Vietnam were really great and flew by very quickly.
We then flew to Siem Reap via Bankgog where we left 3/4 of our luggage. (still wondering why we have carried so much stuff around the world-hmmm blame the children car seat!)

Enjoying a few sorbets...
Commentaires sur Vietnam!