21 juin 2009
Our week here had been great. This little town is a real jewel, beautiful architecture everywhere, reminding us of a french little town mixed with nice wooden houses. With more than 30 Buddhist temples, there is monks everywhere which are so much part of the beauty of this place. Cycling everywhere we enjoyed the local cuisine even though communication was sometimes really funny.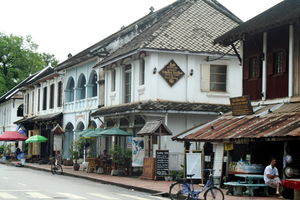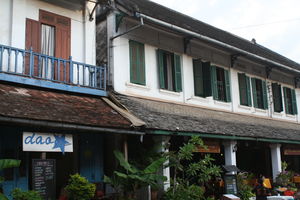 Lorelie avec ses 2 copines Lao qui l'adorent

One lunch time we ordered a fried rice with vegetable saying we did not want any meat- no pork-no beef- egg ok (very elaborate english..). The rice arrived with....chicken.... So the following time we ordered in the same place a fried rice with vegetable (favorite choice of the girls since we are in Asia) we again asked it with no meat AND no chicken. it came with pork...
What is the chef salad? It is a salad and a chef mixed together....
After that week unwinding and discovering the surrounding we decided to take a 2 days trek in the mountain to stay in a typical tribe village. Our guide tried to disuade us to do the 4 hours trek but we convince him that the girls will be able to do it
Not only they did but it took us only 4 and an half hours to make it. It was a very up and down walk and the girls loved running down pushing our guide to go faster, with him shouting to them to 'stop, it is slippery', which makes Tahlia wondering why our guide wanted to sleep (slight confusion between sleeping and slippery) , it was all very funny. The scenery was absolutely stunning and you will have to take my word for it as we compromise on weight in the backpack by not taking a camera with us.
Elena's dream to sleep in a real Lao's house in bambou and palm leaves was fullfilled that night. It was a real experience to stay in one of those traditional villages, I still wonder who was observing whom, as children and adults alike were very intrigued by our family, especially our blond girls. They do have foreigners to stay there often, but rarely family with young children. So there was constantly a group of them observing us.
The next day we had a shorter walk to go back to the river where kayaks where waiting to slide us back to Luang Prabang.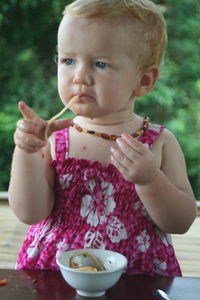 J'ai enfin une robe!! Peut etre que l'on va arrete de dire que je suis un garcon?
Today we celebrated Tahlia's birthday,as we have decided to celebrate it six month earlier to avoid having christmas and birthday only 4 days apart. It was a really fun and exciting birthday party with lots of balloon, home made party hats and even a chocolate cake with fresh mango as she wanted! They had a lovely day playing with her presents but really the fun was also to prepare everything, create the decoration, talk about it daysssss before, and fantasizing about the presents.
Commentaires sur Luang Prabang