09 juin 2009
To be back in Thailand is absolutely delightful. The Thais are wonderful, so smiley, laid back and welcoming, communication is easy and fun. The food is yummy always fresh and tasty. And everything is simple and run smoothly. They absolutely love children which makes the travelling even easier for us. Where else do you meet on the street people spontaneously offering to look after your lugage whilst you go for lunch? Or guest house rushing to buy a double matress to cater for the whole family and fit us in one room? Or restaurant where they laugh when seing children spilling food on the floor? (I would not mke any comment on our girls table manner, it does get on my nerves at the moment...)
Chiang Mai despite being the second largest city in Thailand is really small compare to Bankgog. I really enjoyed cycling everywhere back and forth, from our huge appartment to my thai massage course (I definitely recommend the training I did at www.sunshine-massage-school.com ) the traffic is not too bad and the city being flat, cycling is the best way to get around (quicker and more reliable than most tuk tuk)
While I was learning the traditional thai massage, Gaetan and the girls had lots of fun. They enjoyed staying at home to make craft, playing with their friends 4 storeys below us, going to see the elephant, going to the playground, going to the swimming pool, discovering the city, going to the market, cooking diner or watching DVD. It was great to watch the 4 of them enjoying themselves together. After the travelling of the previous month it was good for everyone to settle down again and having time to play, connect, bond and rest. What Elena really prefered whilst being with daddy is that, with Daddy She can always chose the activity!
Some pictures of our flat

Lorelie prefered sitting place (in the cupboard next to the music, to be able to put the volume up up up)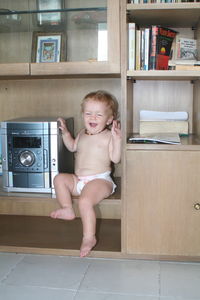 After those 2 weeks we head off towards the golden triangle. Stopped in Chiang Rai, visited the long neck tribes, had a hard time finding a decent place to stay in Chiang Sen, and then cross the Mekong to reach Laos.
More pics later!
Tahlia who loves to dress up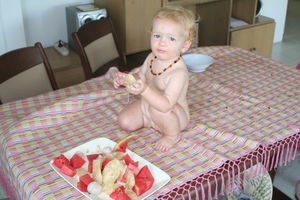 The best place to eat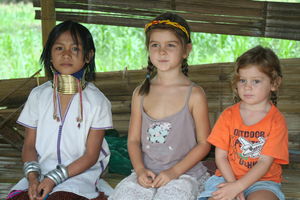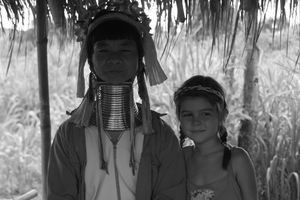 With the long neck tribe
First Tahlia was so impressed and scared she did not want to sit next to them, then she accepted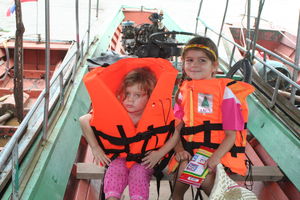 Crossing the Mekong to go to Laos
And to finish the same place, the same girls but one year later

Commentaires sur Northern Thailand